The Foul Hook
Spirit Capital's success since its inception in 2002 is directly attributable to the support it has received from its clients, associates and friends. We wholeheartedly value your support and, in order to demonstrate our appreciation, we have established "The Foul Hook".
The Foul Hook is an overseas trip to a destination of your choice. We think 18 holes on The Old course followed by a 20 year old Glenmorangie would do it for us, but you might prefer fishing in Mozambique, F1 racing in Monaco, or theatre on Broadway. The choice is yours!
You qualify for The Foul Hook when you introduce a transaction to Spirit Capital. Your introduction will be acknowledged in writing and if we successfully conclude the transaction (which is likely, because we're pretty good at what we do) you'll be jetting off with us to the destination of your choice.
We look forward to celebrating with you.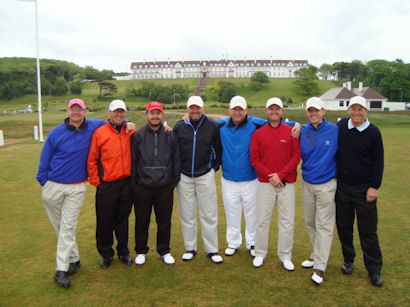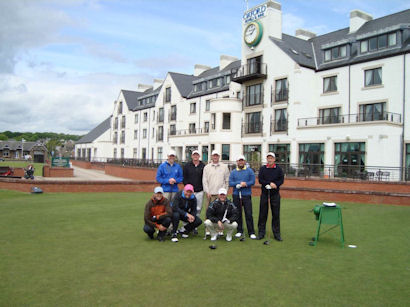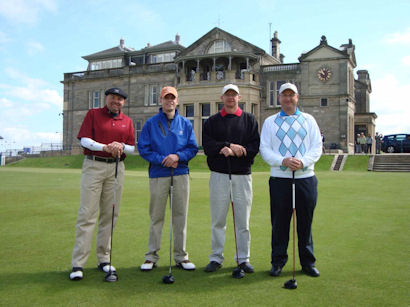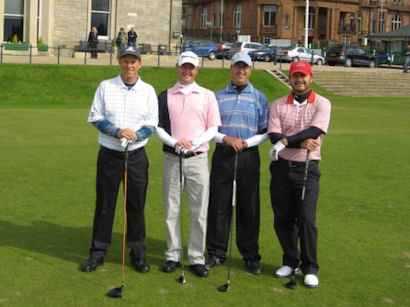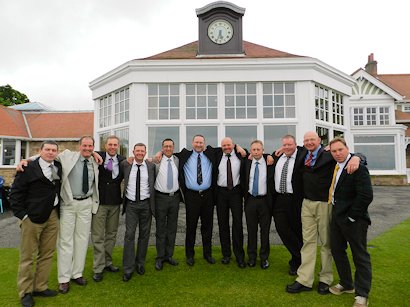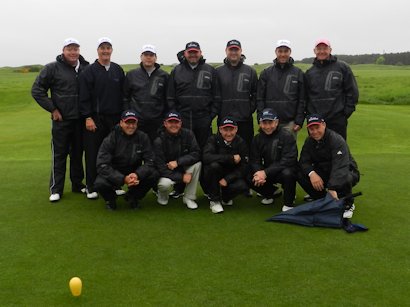 Scotland 2016 Foul Hook Tour
In June 2016 we were privileged to return to the Home of Golf, St Andrew's in Scotland. We were joined by a number of colleagues from our businesses, Deon Joubert, Jake Archer and Brian Hogg (Multiknit), Stuart Hughes (Perspex South Africa), Adrian Kemp (XPS) and Simon Chalker (CHC Supply Chain) all of whom had earnt their spot on Spirit's fifth Foul Hook through individual contributions and successes over the past while.
The weather was typically Scottish, the golf courses amongst the most famous in the world, the festivities typically festive and the company first class - the tour was an absolute blast!
The Foul Hook is certainly something to cherish, we look forward to the next one and to taking a new crew of qualifiers on a trip of a lifetime! Send us a deal…
Scotland 2010 Foul Hook Tour
The Foul Hook was established to thank our colleagues and associates for their valued and continued support over the years. Certain members of the banking industry have had to decline an invitation over the past few years due to regulatory / policy issues, so it was with great pleasure that we were able to extend a golfing experience to Stuart Hughes and Piet Mouton in recognition of their efforts and support.
The Tour began at the Home of Golf - St Andrews where we were based for the first 3 days before we swung across to the west coast of Scotland. An awesome trip, one that included rounds at The Old Course, Carnoustie, Kingsbarns, Royal Troon, Dundonald Links and Turnberry. The very best of golf courses in the true tradition of links golf! Much fun and laughter was had.
The evidence is clear – we'll take those of you who refer us a qualifying transaction to an exotic destination and have an absolute blast. You may prefer the Monaco Grand Prix or the Tour De France and to be honest if you want to, we'll happily go back to Scotland once more.
We look forward to hosting you on our next Foul Hook!
* Terms and Conditions
The terms and conditions of "The Foul Hook" travel incentive programme are as follows:
The travel incentive may only be claimed under the following conditions:

Spirit Capital (Pty) Ltd receives a minimum fee of R600, 000 (excluding VAT); and
Spirit Capital (Pty) Ltd fees have been paid in full in respect of the relevant transaction.

The travel incentive is not exchangeable for cash.
The value of the travel incentive may not exceed R90, 000 (excluding VAT).
The travel incentive includes the costs of flights, accommodation and sport/theatrical events (e.g. golf, theatre, Formula one etc.).
Contact Us

Telephone: +27 (0)83 398 6501